Camera trends in smartphone devices adopted by smartphone vendors are now starting to become the main selling points. Not only offering new innovations on smartphone devices through the camera, vendors are competing to bring smartphone devices with high resolution with a very attractive design technology.
The camera revolution on smartphone devices by vendors presents a variety of innovations ranging from pop-up cameras, rotary cameras to cameras that are presented with a charming design. Samsung Electronics Indonesia finally inaugurated and marketed a smartphone with the latest slick camera features on the market. The smartphone that comes with the name Samsung Galaxy A80 is now available on the market at a very attractive price. But at the price offered, Samsung provides a camera innovation that is first present on smartphone devices made by Samsung.
Samsung called it a Triple Rotating Camera, so Samsung buried 3 cameras in this device but can be used as a rear camera or as a front camera. This is thanks to the embedded camera technology.
But does the Samsung Galaxy A80 only rely on a rotary camera as its main selling point? The following is a complete review summarized by the PULSA Tabloid.
Sales Package: Handset, Charger, Headset, Micro USB Data Cable, Manual Book, Warranty Card, Sim Ejector, hard case
Triple Rotating Camera is the Mainstay
As Samsung's first smartphone to embed rotary camera technology, the Galaxy A80 offers very tempting photographic capabilities. Starting from the rotary camera technology offered, the amount of resolution to supporting features that will spoil users who like to do photography activities with a smartphone.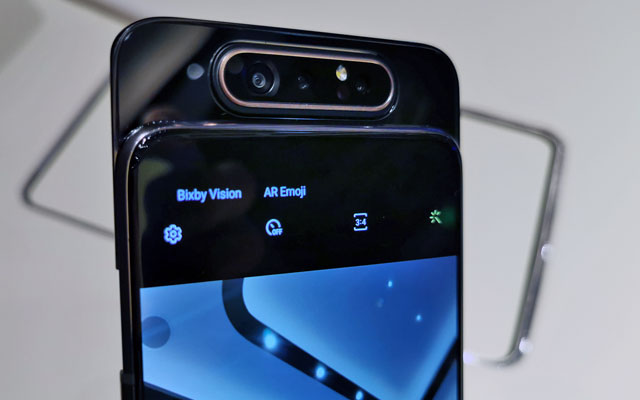 Interestingly enough, Samsung provides a quality assurance of an embedded rotary camera that is claimed to have quality that can be used in the long run. As a result, users do not need to worry that the embedded rotary camera will be damaged quickly because it is often used for photography activities.
Not just bringing a revolutionary rotary camera, the Galaxy A80 is also known to have buried 3 camera lenses at once. The embedded main camera has a 48 megapixel resolution with f / 2.0 lens opening and additional PDAF features. While the embedded second lens has an 8 megapixel resolution that has an ultra wide angle of up to 123 degrees. And the last lens is a 3D TOF lens that is capable of producing photos with live bokeh effects. This 3D Depth lens also offers a Live Focus Video feature that allows users to add a bokeh effect when recording video.
Not only has a very good quality lens, the Galaxy A80 also features a Super Steady feature that helps consumers absorb shocks when recording images and recording pro-level video action. The Scene Optimizer feature is also embedded which can identify photo and video elements for up to 30 scenes / subjects and optimize the scene / subject to produce photos with vivid colors with bright and dynamic colors. Also present is the Flaw Detection feature that automatically notifies you of potential interference before capturing images for more epic photos and videos. Adding to the excitement of users, Samsung also embeds Super Steady video mode to help you capture content easily and reduce video shake to ensure smooth video with pro-level action quality.
In the testing process, the quality produced by the Galaxy A80 is quite good in capturing moments with various lighting conditions and selected modes. Similarly, when the PULSE capture the moment with an ultra-wide angle. Although it cannot determine the focus point to be chosen the results of the photos obtained are still very good.
For the ability to record video, Galaxy A80 provides a choice of resolutions and frame rate speeds that vary. Starting from UltraHD with a frame rate of 30 fps, FHD 60 fps, FHD 30 fps and HD 30 fps.
Again, the Galaxy A80 is also equipped with Super Slow-mo, Slow motion and Hyperlapse features. These three features are fairly interesting to capture certain moments. Unfortunately for professional mode, the Galaxy A80 is only given access to very limited settings. Starting from the ISO settings that only start from 100-800, the determination of focus points and lighting settings only.